Sustainability Management
Sustainability Management
Care in everything
we do
Stena takes a long-term approach in order to ensure that it creates sustainable value by providing services to society that are relevant both today and in the future.
Stena's shared group sustainability process, SuStenability, aims to ensure a clear direction and structure, with shared processes and follow-up for all business areas. The principle of delegated business acumen within Stena, with decisions being taken close to the business area, is well-integrated in SuStenability. This contributes to increased commitment to sustainability initiatives by leveraging business opportunities, knowledge and experience in the various business areas. In 2020, these issues were more closely integrated into most business areas in order to meet the growing interest in sustainability issues.
SUSTENABILITY–STENA'S SUSTAINABILITY PROCESS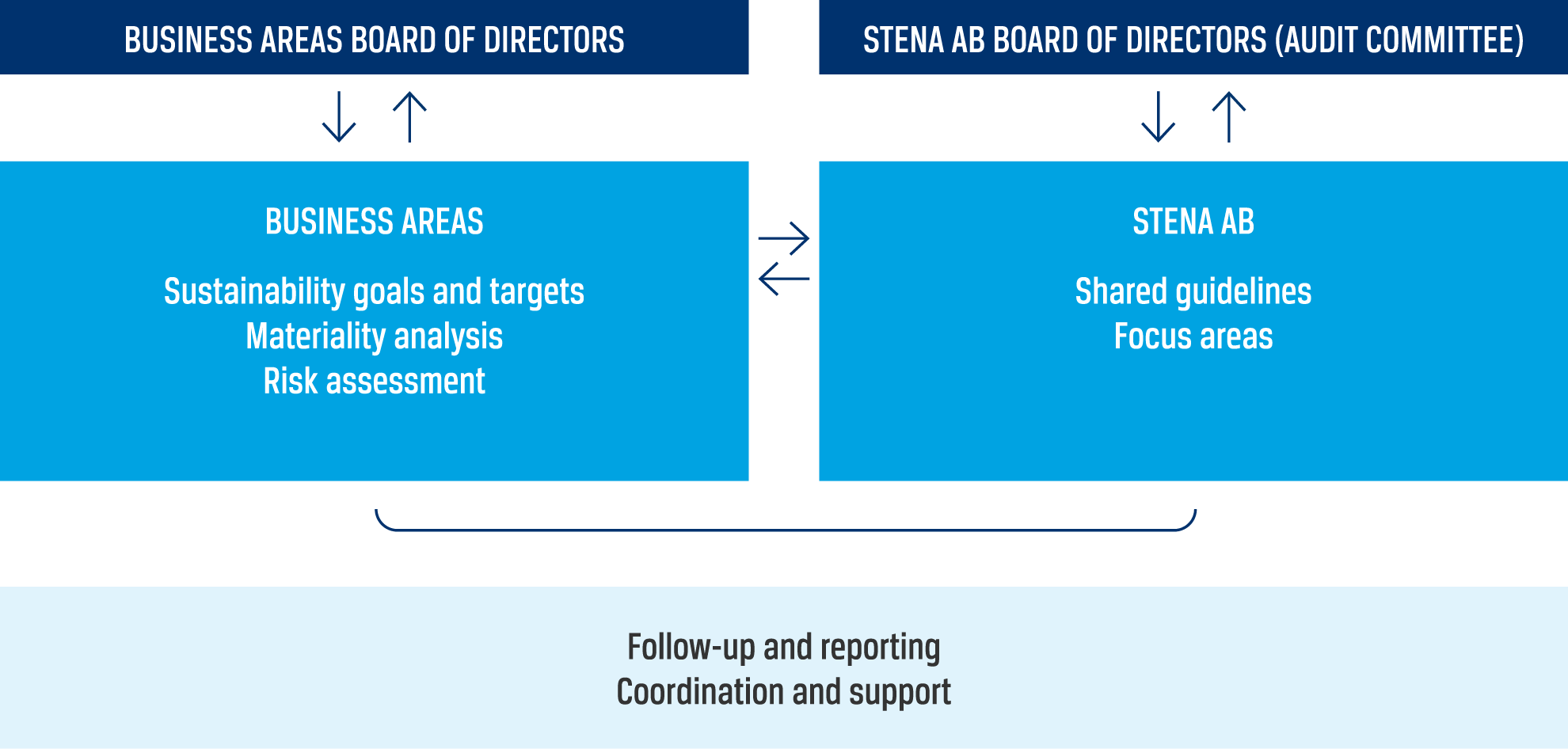 SHARED GUIDELINES
Stena's code of conduct and shared Group policies are the basis and the benchmark for all business areas. All shared policies were reviewed in the spring of 2020 and an updated, Group-wide code of conduct was published in May. Stena's code of conduct sets out guiding principles for activities related to such issues as the environment, social conditions, personnel, human rights and anti-corruption. It also concerns relationships with business partners, and how Stena reserves the right to withdraw from a relationship if a partner does not live up to good business conduct. Overall Group policies are available to all employees on Stena's intranet. When required, the individual business areas have their own policies that are matched to their activities and the settings in which they operate. All employees are expected to have read and familiarised themselves with the code of conduct and shared policies. The code of conduct is an integrated element of the employment contract and part of the introductory programme for new employees. At the end of November 2020, mandatory e-learning-based training, with each session focused on one shared policy, was introduced. The aim is to increase knowledge of the guidelines for Stena's activities and thereby provide guidance to both the employees and the operation.
FOCUS AREAS AND GOALS
The Stena Group has four focus areas as the basis for strategic sustainability work going forward. The four focus areas are the environment, safety, employees and community. At the start of 2021, each business area shall have at least one goal linked to each of Stena's focus areas. This gives a clear picture of the sustainability activities within the Group. One consequence of Stena's development of its performance management is an improved and more pronounced focus on gender equality, with goals for all business areas –primarily concerning succession planning and new recruitment
MATERIAL SUSTAINABILITY ISSUES
Materiality analyses are performed in the business areas, based on the companies' respective value chains and general impacts on society. In the work of identifying material sustainability issues, account is taken of external stakeholders' perspectives. Stena's stakeholders are multifaceted and include residents, suppliers, logistics companies and some of the world's largest global energy companies.
The results of the materiality analyses are the basis for the selection of measurable outcomes and performance indicators, that are relevant for each business area. In summary, the material sustainability issues for the various business areas are possible to map within the framework of the Stena Group's four focus areas.
Most of the business areas reviewed their materiality analyses in 2020 (updated every second year). In many cases, this confirmed that their most significant areas are still valid, but in some cases they required updating and supplementing, primarily due to new circumstances related to the pandemic.
Materiality analyses with related goals and performance indicators are approved and followed up by the companies' management groups and boards. This is also reported centrally to Stena AB. Depending on the metrics, there is follow-up on a monthly, quarterly or annual basis.
Under each business area you can read more about Stena's activities to ensure a sustainable future.
IDENTIFICATION OF SUSTAINABILITY RISKS
Stena has a well-established risk analysis method. In each business area it is based on consensus and dialogue between the persons responsible for the business area's overall risk analysis and the persons responsible for analysis of sustainability risks. Analysis concerning sustainability risks is performed by the business areas' sustainability officers and approved by the management group. The analysis for sustainability is based on risks related to environmental, personnel and social conditions, human rights and anti-corruption. The analysis is performed once a year and focuses on sustainability risks related to Stena's activities and value chain and, where relevant, Stena's business contacts, products and services.
REPORTING AND FOLLOW-UP
If an employee discovers something that violates applicable legislation, or Stena's code of conduct, values or policies, there is a whistleblower function to report the incident, based on full anonymity. The service is provided by an external partner and all information is encrypted, as an additional security measure.
Stena's whistleblower policy is available to all employees on Stena's intranet, together with instructions for the reporting steps that employees are encouraged to take when notifying suspected irregularities. Under each business area you can read more about Stena's activities to ensure a sustainable future.
Under each business area you can read more about Stena's activities to ensure a sustainable future.
SUSTENABILITY NETWORK
Stena has a central sustainability department to support its activities. Each business area has a sustainability coordinator who is responsible for promoting the internal work. Together these functions form the SuStenability network. The coordinators and the central sustainability department meet two to three times a year, to exchange experience and training in the area.
Trends towards a sustainable future
Dramatic economic downturns, strong technological development and a greater focus on sustainability issues, politically, in business and industry as well as among consumers, are changing the world around us at an ever faster pace.
Companies with the ambition to lead the transformation to a more sustainable society are facing increasing demands from stakeholders. Stena has the goal of ensuring relevant and business-based sustainability work in all of its activities, based on their various circumstances. Below is a description of some clear trends that are important to Stena
PHASING-OUT OF FOSSIL FUELS
Climate change is no longer mainly a question of carbon emissions, but is now an element of a major systemic transition to long-term sustainability, with success depending on the phasing-out of coal and oil. Stena's dependence on fossil fuels is the company's greatest sustainability challenge and risk. Society's phasing-out of coal and oil, the European Green Deal and the EU's 2050 climate neutrality target are assessed to have a great impact on Stena's activities. Stena has sought for a long time to minimise carbon emissions and actively participates in developing new, climate-smart technology. Stena is also aware that more needs to be done to address the transition to renewable fuel and electrification.
INCREASED FOCUS ON SOCIAL RESPONSIBILITY
During the past year, there has been an increased focus on social responsibility and people in vulnerable situations. One example is the worldwide Black Lives Matter movement. An increasing number of companies is also working more actively with human rights and social stability. Issues related to human rights, anti-corruption and social instability have a great impact on Stena's activities. Stena Property has a strong, longstanding position in the area of social responsibility and, besides its initiatives, supports efforts of various organisations in civil society and in academia.
TRANSPARENT REPORTING
Another clear trend is the expectation of greater transparency via social media and other communication channels, and more stringent corporate reporting requirements from the financial sector, among others, whereby frameworks based on the effects of climate-related risks have a greater impact on business and industry. Another framework with a financial aspect is the new EU taxonomy, which will affect corporate reporting. Stena is working actively to fulfil the more stringent reporting requirements.